Okay, here is the deal. I have been thinking about this post all week and am not sure how to address this very important moment in the wedding process without giving too much away. I don't want everyone to know about the type of dresses I fell in love with and what type I ultimately said yes to, but I don't want to keep you all in the dark, so let's meet in the middle. I will tell you a little about what I thought on each style of dress I tried on, and you all can take a gander at what you think I chose.
Timothy on the other hand..will get nothing. I will tell him absolutely nothing. Because I am a horrible liar and I can't keep a secret worth anything..unless it is like a serious secret then I am your go to girl. but if it is something silly like what I got him for his birthday..he will know before he opens the gift. Yes, he hates that I can't keep a secret. But oh well.
Now let's get to some wedding dress talk.
I love beading. I love lace. I love tulle. I love one shoulder. I love strapless. I love halter. I love empire waist. I love a sash.
I hate a-line. I hate mermaid. I hate looking like a bird. I hate feeling like I am carrying 30lbs of dress.
I know those descriptions did not really help you but that was the point...you all will just have to wait a little over a year to see what I picked out...makes ya want to follow along so you don't miss out on what I picked!
Wanna hear how I picked my dress?
So I won't tell you the details of the dress but I will tell you how I picked it and how I knew it was the dress. We started at Lana Addison and I walked in and was just picking every dress I wanted to try on. I was showing the consultant dress after dress. I knew I was going to find my dress there. Well we tried on dress after dress and started slowly eliminating some. There were ones I liked, loved and hated. (It was nice to know which style I loved and which one I hated) After about 6 or 7 dresses I had it narrowed down to 2 dresses. So we did the whole accessory thing..added a sash and veil. First dress, she put the stuff on me and I loved it I thought that this was going to be my dress. Then we got out of it just to try and put on the second dress that had made the final two. She accessorized me again and then I knew...the dress I had on that very moment was the dress I was going to walk down the aisle in and marry my best friend.
BUT....
We had only been to one place and 2 other places to go and my moms best friend wanted to make a day out of it..I mean she did fly all the way from Florida to come with me. So I sadly took the dress off and left Lana Addison. We went to Panera Bread for lunch and all I could think about was the dress. After lunch we went to Bridal Boutique on NC in Cary - I didn't try on a dress there were just too many and you don't make appointments and I would have never been able to choose which dresses to try on. Next, we went to David's Bridal - we had an appointment at 5 but had gotten done with everything else so early we were an hour early. So we check in and look around..once again so many dresses. We looked around at all the dresses and Melissa looked at me and said...you want to go sign the book? (There was a book at Lana Addison that everyone in my group was saying to sign when we first got there...but it was all signed with "I got my dress!, Thanks so much I love my dress!, etc..so I couldn't sign it unless I had picked out my dress..I mean I wasn't going to sign it before and say.. YAY I hope I say Yes to the Dress!) - I looked at Melissa and screamed YES! I couldn't think about any other dress than the one I had fell in love with earlier that morning.
We raced back over to Lana Addison - they said they like to leave around 5:30 on Saturdays and we were on Capital Blvd 20 miles away from Cary. I couldn't speed though because I had my two grandmothers in the car and I had never driven them before and wanted them to know I was a safe driver. So we called Lana and told them we were coming back! We got there and I slipped back into the most beautiful dress I have ever seen and put the veil and sash on and I said YES TO THE DRESS! It is the most perfect dress for me..as Audrey says it has a "Southern Accent" to it and I know Timothy will love it...but he would love anything I walked down the aisle in. Not only does my entire family love it but I know my mom would have loved it as well. This would have been her first choice for a gown for me. We are hoping we are going to be able to find my mom's veil she wore on her wedding day, so I can wear something of hers.
I had my oh shoot moment where it actually hit me that I am getting married. It was the first time I had said it out loud in a serious environment (other than to Timmy) that I was getting married. I mean obviously I had said the words I am getting married, but never have they hit me or felt as real as when I was wearing my gown and veil.
Here are some tips for when you go dress shopping.
Do your hair and make-up. You want to feel amazing when you try on your dress. So having your make up and hair done before you go to your appointments will make that much of a difference. I know if I am trying on new clothes if my hair is thrown up in a messy bun and I have no make up on I can't picture how the whole outfit would come together. Not saying you need to go to a salon and have your hair and make up done..just mean don't go looking all ratchet.
Too many different styles. Don't overwhelm yourself with all the different styles. And some will not work with your body style..it is okay. Try it on and move onto the next style. You will find that perfect dress and it may not be in a style you thought you would be able to rock..so step out of your comfort zone a little.
Picture vs Reality. What a dress looks like in a picture may be nothing like it does in reality. Just prepare yourself and don't fall completely in love with a dress in a picture before you go.
You might not get the feeling. I was trying on dress after dress and I wasn't getting any feeling. But after they put the veil on I got the feeling. It may just take a few accessories to get the feeling!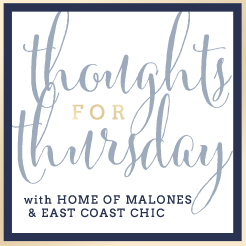 linking up with East Coast Chic and Home of Malones
Don't miss a thing ~ Follow along!